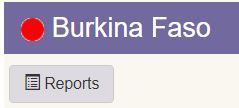 The Reports button will be visible for contexts where you can run reports. The available contexts for reports are:
•Area
•Program
•Project
Clicking on the Reports button will show the reports available for this context.
The reports panel has two tabs, Basic Reports and Extended Reports.

1. Basic Reports: This tab allows for a quick and easy way to run standard reports.

2. Extended Reports: This screen offers options to run less commonly used standard reports.

See sections following for additional details on using reports. (Note that the Logframe report is covered under the Logframe section.)
All reports will be based on the selected data by way of the Navigator. To run a report, start by navigating to the data you want to have in your report by using the navigator. For example, to run a report for a certain Program or Project, first go to that Program or Project, be sure you're in the fiscal year you want, and then click the Report option.
Click on the Select button next to the desired report to run it
Some reports need the Program Year or the Report Period to be specified. If this is the case, you will be asked to specify this.
| | |
| --- | --- |
| | If selecting Program Year, the year selected in the Selected Year filter (link) will be shown. You can select this year, or click on the check box to remove the Filter and to see all program years and select a different one. |
Choose the report output format.
| | |
| --- | --- |
| | Click on the Select button to choose the report output format. |
That completes the information needed in order to run the report. Upon selecting the format, the report request is submitted to the Report Queue.