This screen shows you information about the Partner(s) connected with this Project.
Each program has a list of Partners (see Partner Screen) from which you can link one or more partner to each project. To do this,
•Navigate to the "Partners" node.
•Under the gear symbol drop-down menu, select 'Link Partner to this Project'. A list will pop up of all partners (active and historic) that have been entered under this program.

•Find the desired partner by scrolling or using the Filter option to type in the Partners' name. Click 'Select'. More than one partner can be linked to a project.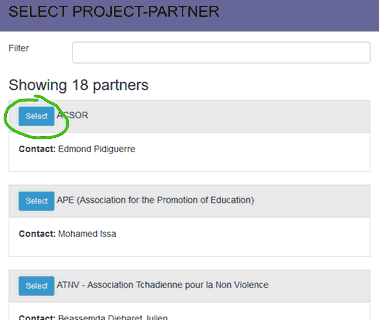 Note, the partner record must be entered before you will be able to select the partner from this menu. To add a new Partner to the database, you must first enter the partner information in the Partner Screen, and then link the Partner to the project.
To remove a Partner link, navigate to the Partner name under the Project and use the gear symbol drop-down menu to select 'Delete Partner Link. Deleting a Partner link from the Project list does not delete the Partner from the Program or from PlanWin, it only removes the link between this Project and this Partner. When deleting this link, a warning message pops up that says: 'This will delete PARTNER NAME (item type: Partner - Project level) and any/all entries that come under this item'; the 'item' to which this warning message refers is the Partner-Project link only, not the Partner file.